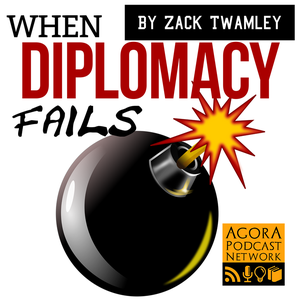 When Diplomacy Fails Podcast
By Zack Twamley
What's When Diplomacy Fails Podcast about?
Current: Versailles Anniversary Project
October 2019: Thirty Years War series
Hello and welcome history friends patrons all to When Diplomacy Fails Podcast, or WDF as I like to call it! My name is Zack Twamley, history masters graduate, author and all-round history nerd! For over six years, I have been privileged to examine wars throughout history through a unique lens. I always try to ask what on the surface may seem like very reasonable questions - why, how and WHEN did diplomacy fail? This approach has enabled a loyal base of 'history friends' to grow up around WDF, and thanks to their much appreciated work getting the word out there, we have taken history podcasting to incredible new heights!

You should know that my jam at WDF is not the mundane, the tedious or the repetitive - I care little for the logistics of why one general moves his forces to point A, or what impact weapon X had on the war. Instead, I delve into human agency, the story populated by sometimes ingenious, sometimes fatally flawed human beings, who believed or had been led to believe that the time was right for war. Under these circumstances, diplomacy certainly fails, but thanks to our window into the era, you get to find out all about it! From the machinations of Louis XIV, to the complex set of events which led to the outbreak of the First World War, to the most obscure of conflicts besides, WDF has been through it all, and there's so much more to come! So why not stop by, give us a listen, and do your bit to help make history THRIVE!
If you want to lend a hand to what I do here then please subscribe/rate/review the podcast here, like the Facebook page, follow on Twitter @wdfpodcast visit the website www.wdfpodcast.com become a Patron at www.patreon.com/WhenDiplomacyFails and contact Zack directly at his email address: [email protected] Thanksss!