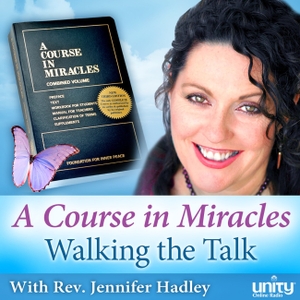 A Course in Miracles
By Unity Online Radio
What's A Course in Miracles about?
Living A Course in Miracles: Walking the Talk provides profound support for those who struggle to express their beliefs from moment to moment in their everyday lives. A Course in Miracles shows us the way out of suffering and into that true place of peace and joy. The only way to experience that amazing healing is to live the teachings of A Course in Miracles day by day. To succeed requires practical application, and on this program, Rev. Jennifer Hadley supports you in that!
In each week's episode, Rev. Jennifer shares her personal experience of transformation and invites her guests to do the same. Hear how Jennifer's commitment to truly living the principles has transformed her life and led her to teach tens of thousands of spiritual students how to use the practical tools she's discovered for living with more peace, joy, and freedom. In this program, Rev. Jennifer Hadley interviews many beloved teachers of ACIM so you can discover the practical steps they took to walk the talk and transform their lives in the areas of self-esteem, relationships, health, prosperity, and more. Listen in, and then take the pledge to live the teachings of A Course in Miracles on Facebook.
The ideas and opinions expressed on this program do not necessarily reflect the teachings of Unity. Unity respects a wide range of spiritual thoughts and beliefs, as reflected in the diverse range of subjects presented on Unity Online Radio.