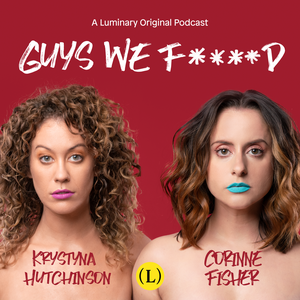 AND THEN YOU FUCKED SOME GUY NAMED BRAD?
08.17.2018 - By Guys We F****d
After discussing a #fucker's very unique childbirth kink, hosts CORINNE FISHER (@PhilanthropyGal) & KRYSTYNA HUTCHINSON (@KrystynaHutch) sit down with comedian CASEY BALSHAM (@CaseyBalsham) to discuss her choice to start trying to have a baby, getting horny when you're hungover, being a wild and affectionate drunk, and the guys she's fucked. PLUS: Should you choose a woman doctor?
BUY TICKETS, MERCH, OR DONATE TO GUYS WE FEST:
http://www.sorryaboutlastnightcomedy.com/guyswefest/
Want more episodes of #GuysWeFucked in you life? Subscribe to our Stitcher Premium bonus episodes using this link --- stitcherpremium.com/gwf
Tweet CASEY BALSHAM: twitter.com/CaseyBalsham
Email us: SorryAboutLastNightShow@gmail.com
Tweet the ladies: twitter.com/SryAboutLastNyt
Tweet Corinne: twitter.com/PhilanthropyGal
Tweet Krystyna: twitter.com/KrystynaHutch
Follow us on Instagram: SorryAboutLastNight
YouTube: www.youtube.com/sryaboutlastnyt
Facebook: www.facebook.com/sorryaboutlastnight
LINK TO OUR TEDx Talk "How Much?": youtu.be/M2-K7VkXGXE
COME SEE US LIVE!
NOW = Brooklyn, NY
NEXT = TEXAS, CANADA
For full touring schedule, please visit www.sorryaboutlastnightcomedy.com/tours
LISTEN TO CORINNE'S NEW PODCAST, Two Less Lonely Girls! A podcast where two adult women (Corinne Fisher & Rosebud Baker) publicly stalk Justin Bieber each week in 30 mins or less! https://apple.co/2GmQO6K
BUY KRYSTYNA'S COMEDY/MUSIC ALBUM "Maybe It's You". Songs and sketches by Krystyna and Joseph Vecsey. https://itunes.apple.com/us/album/maybe-its-you/1349593482
MUSIC FEATURED THIS WEEK:
1. Una Mey- "Such Is Love"
https://soundcloud.com/itsunamey/suchislove
2. BadLions - "Shinigami"
https://m.soundcloud.com/badlionsmusic?locale=en
https://open.spotify.com/artist/2mk2ZoysXybfNQJ3JvORc2?si=Z7ARXHFYTTepmd7nRRvVcw
Do you think your music should be featured on an episode of GWF?
E-mail a streaming link to Mike Coscarelli: GWFPodcastMusic@gmail.com