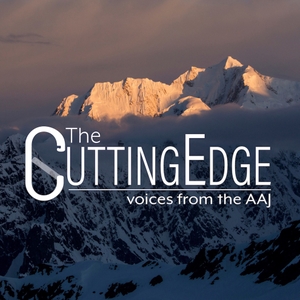 Link Sar with Steve Swenson and Graham Zimmerman
09.04.2019 - By The Cutting Edge
At sunset on August 5, 2019, Steve Swenson, Graham Zimmerman, Chris Wright, and Mark Richey stood on top of Link Sar, a 7,041-meter peak in Pakistan that had resisted numerous attempts dating back to 1979. The successful climb of the southeast face was the culmination of two months of effort by a powerful team of American climbers: two veterans in their 60s, and two of the leading alpinists of today's younger generation.
Our guests for this episode are Steve Swenson, author of the recent book "Karakoram," about 40 years of climbing in Pakistan, and Graham Zimmerman, the youngest member of the expedition. The two describe this very complex mountain, where just identifying a reasonable line took multiple years of attempts, and their nine-day round trip from base camp, which drew on the deepest reservoirs of every member's strengths.
The Cutting Edge is presented by Hilleberg the Tentmaker. This podcast is produced by the American Alpine Club.