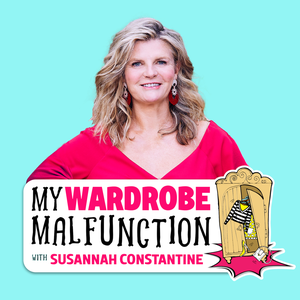 My Wardrobe Malfunction with Susannah Constantine
By Clearwood Media
What's My Wardrobe Malfunction with Susannah Constantine about?
We've all had wardrobe malfunctions – moments when our clothes badly let us down. Susannah Constantine has had many. Like the time she was at a Windsor Castle supper when her dress straps snapped, releasing her breasts into the soup.
Clothes and how they define us have fascinated Susannah for years – and were famously explored in her seminal 'What Not To Wear' TV series and bestselling books.

Now, she returns to her first and true love in the 'My Wardrobe Malfunction' podcast in which she meets a dazzling array of well-known figures to discuss their relationship with clothes – as they reveal everything from their 'comfort blanket' to their 'burial suit' and, of course, their ultimate wardrobe malfunction...
Submit your wardrobe malfunctions to Susannah @mywardmal