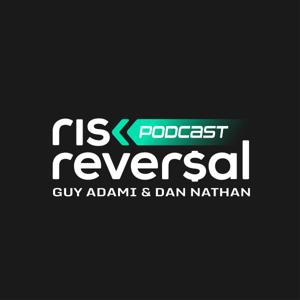 On The Tape
By Risk Reversal Media
What's On The Tape about?
Each week, CNBC Fast Money contributors Dan Nathan and Guy Adami, along with former hedge fund manager Danny Moses (as featured in The Big Short), break down market-moving headlines, provide their insights into the financial markets and discuss under-the-radar investment themes.
You'll leave each week with a better perspective on financial and business news from three experienced, nonconsensus voices whose goal is to provide listeners with the intellectual framework to think critically and make smarter investment decisions.
Each episode, the co-hosts go Off The Tape with a guest from the world of finance, media, entertainment or sports.
Dan Nathan is a CNBC contributor, the Principal of Risk Reversal Advisors and is the founder and editor of RiskReversal.com.
Guy Adami is an original member of CNBC's Fast Money and is currently the Director of Advisor Advocacy at Private Advisor Group.
Danny Moses has been on Wall Street for decades in a variety of roles, is currently a private investor and was also featured in The Big Short for his bet against the housing market.
Stay up to date at OnTheTapePodcast.com, follow us on Twitter @OnTheTapePod and subscribe to On The Tape in your favorite podcast store.