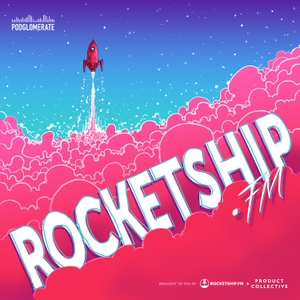 Rocketship.fm
By Rocketship / The Podglomerate
What's Rocketship.fm about?
Get actionable advice and incredible insights from the business leaders of today and tomorrow. From growth-hacking to sales, customer service to company culture, Rocketship.fm delivers it all every Tuesday and Thursday each week.
**What people are saying**
"Oh, and let's not blow past the fact that the show is wildly informative and thought provoking."
"These guys interview some serious heavy hitters and get actionable advice you can use today to build your startup. Pretty awesome if you ask me."
"The Rocketship is a fantastic podcast, each episode bringing in real people who have made stuff happen in their lives and for their companies, and whose insights are gold. Highly recommended."
"I'm always impressed with the insights Joelle, Matt, and Michael are able to gather from respected product, startup, and entrepreneurial leaders. A++"
"There is a LOT of information here."
Follow us on twitter:
Michael Sacca - @michaelsacca
Joelle Steiniger - @joellesteiniger
Matt Goldman - @sdmattg