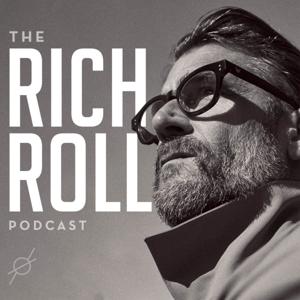 Colin O'Brady & Jenna Besaw On Possible Mindsets, K2 Perils & 12-Hours Walks
07.25.2022 - By The Rich Roll Podcast
World-record setting adventure athlete and New York Times bestselling author Colin O'Brady returns for his fifth appearance on the podcast (RRP 207, 235, 439 & 519), this time alongside wife and partner in all things Jenna Besaw —the powerful engine behind everything they have accomplished together.
Today we discuss what global exploration has taught Colin & Jenna about mindset. We talk about the transformative power of an all-day walk, the subject of Colin's new book, 'The 12-Hour Walk'.
Packed with actionable takeaways ad incredible stories, this is a long one, but I implore you to stick around for the final hour— a harrowing first-person account of the trauma and tragedy of death on K2.
Watch: YouTube.
Read: Show notes
Today's Sponsors:
Athletic Greens: Go to: athleticgreens.com/richroll for your all-in-one daily supplement plus get a FREE year supply of Vitamin D ​AND​ 5 free travel packs with your first purchase.
Calm: Ease stress and get the best sleep of your life with guided meditations, sleep stories, and more. Right now, get a special limited-time promotion of 40% off a Calm Premium subscription at calm.com/richroll.
BetterHelp: The world's largest therapy service, 100% online. Professional, licensed, and vetted therapists who you can trust. Listeners get 10% off their first month by visiting BetterHelp.com/richroll.
Squarespace: The easiest way to create a beautiful website, blog, or online store for you and your ideas. Visit Squarespace.com/RichRoll or a FREE trial, and when you're ready to launch, use offer code RichRoll to save 10% off your first purchase of a website or domain.
Whoop: The world's most powerful fitness tracker is now waterproof. Get the WHOOP 4.O at WHOOP.com and use the code RICHROLL at checkout to get 15% off.
Salomon: The world's best road and trail running footwear & hydration gear. Check out my top picks at salomon.com/richroll and use code LOVETHEPAIN at checkout to get 20% OFF—exclusions apply.
Peace + Plants, Rich Hosted on Acast. See acast.com/privacy for more information.