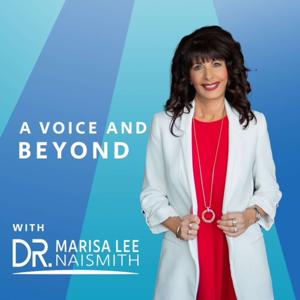 #54. Celebrating All Voices: Building A Thriving and Collaborative Community Part II
03.13.2022 - By A Voice and Beyond
We are so excited to announce it is our first birthday. Yes, it is one year since we launched our very first episode of A Voice and Beyond and to celebrate this exciting milestone, we would like to share some brilliant highlights from our interview rounds, where our internationally acclaimed voice teachers and music artists offer their pearls of wisdom from lessons they have learned throughout their own personal and professional experiences in the music industry, in the teaching studio and beyond.  Each guest shares with us their empowering words of advice, as they speak candidly about their own journeys of self-discovery, self-care and self-awareness. It is through these lessons, we can all learn and grow, reconnect with our most authentic selves, and discover our voices in song as well as life, so we too can empower others, including our students.  It has been a real joy spending time with all my guests and I am truly grateful for their contribution to the show. We hope that you enjoy part two of our two-part birthday celebrations.
In this episode 0:01 - Introduction to our Birthday Celebration of Voices 1:44 - Donna Cameron from Episode 4 9:53 - Petra Raspel Borzinski from Episode 46 13:48 - Sarah Marshall from Episode 33 19:41 - Emma Ferris from Episode 23 23:53 - Duncan Rock from Episode 29 27:24 - Elina Winnel from Episode 37 31:11 - Chris Johnson from Episode 15 35:05 - Dr Nidhi Krishnan from Episode 30 37:43 - Grace Ng Ee Wern from Episode 40 40:18 - Peter Edwards from Episode 39 44:50 - Julie-Anne Whitfield from Episode 25 50:09 - Jen Haddix from Episode 49 53:51 - Heidi Moss Erickson from Episode 35 59:48 - Evan Dunn from Episode 52
For more go to https://drmarisaleenaismith.com/54
Like this episode? Please leave a review here - even one sentence helps!
Follow me on Instagram.