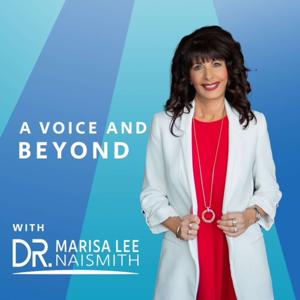 #28. Creating Inclusivity and Belonging for all Voices to be Heard
09.12.2021 - By A Voice and Beyond
At present, not only are we in the midst of a global pandemic, but we are also in the midst of a mental health crisis and a social revolution that is affecting everyone globally, including those in our singing voice studios, the music industry and beyond. As a voice community I know we can do so much better.  This episode is dedicated to all those who are being silenced and to ensure that we as a voice community are honouring all voices and creating safe spaces for everyone to be heard irrespective of race, gender, mental health concerns and professional standing within the music industry. I revisit interview rounds with Nancy Bos, Nadine Manion, Ashlie Amber, Chris Johnson, Dr Elizabeth Benson, and Donna Hughes who offer their pearls of wisdom as to how we, as voice teachers and other music industry personnel can improve our working and studio environments, and ensure that policies are being created to allow for freedom of voice, expressivity and authenticity.  It is our hope, that these perspectives, stories and experiences will help to inspire change and encourage others to embark on their own journey of reflecting on their own biases and looking at how they can improve the industry culture your new normal. Let's say goodbye to mental fatigue and hello to a super-charged brain!
In this episode 01:08 - Introduction 03:01 - Nancy Bos 14:42 - Nadine Manion 29:22 - Ashlie Amber 42:41 - Chris Johnson 52:20 - Dr Elizabeth Benson 1:00:52 - Donna Cameron
For more go to https://drmarisaleenaismith.com/28
Like this episode? Please leave a review here - even one sentence helps!
Follow me on Instagram.