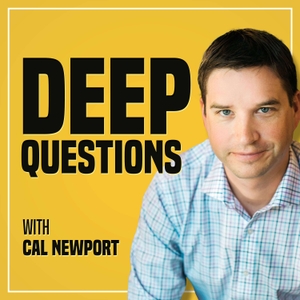 Below are the questions covered in today's episode (with their timestamps). For instructions on submitting your own questions, go to calnewport.com/podcast.
DEEP DIVE: What Does "Productivity" Actually Mean? [5:04]
WORK QUESTIONS
 - How do I stay productive after the pandemic? [17:56]
 - How do I relearn how to think deeply? [22:51]
 - Can I build a world without email with non-knowledge workers? [31:38]
 - Are some people more aligned to some jobs than others? [34:47]
TECHNOLOGY QUESTIONS
 - Do I need a dumb phone? [38:48]
 - How will the pandemic impact higher education? [42:28]
DEEP LIFE QUESTIONS
 - Has my liberal arts education helped my CS career? [51:23]
 - How do the "deep life" buckets related to quarterly planning? [56:05]
Thanks to Jay Kerstens for the intro music.