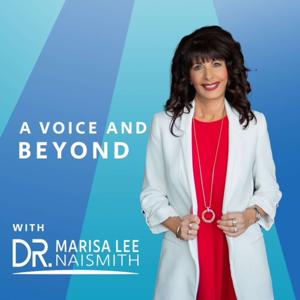 #46. Establishing Boundaries Between Teacher and Therapist in the Voice Studio with Petra Raspel Borzinski
01.16.2022 - By A Voice and Beyond
Today's guest is Petra Raspel Borzinski.
Petra is an accomplished musician and educator, who is trained in psychology, somatic therapy and cognitive-behavioural approaches. Petra speaks candidly about how her limiting beliefs around perfectionism, led her to suffer from performance anxiety throughout her entire career. Based on her own personal experiences, as well as the knowledge she acquired through her own education, Petra teaches performing artists how to regulate their nervous systems, reconnect with their bodies and their deepest values so they can perform and live freely. In this episode, Petra confesses that she has an obsession with learning and how this desire for knowledge has given her a deeper understanding of trauma and other mental health and emotional concerns, especially within the performing arts industry. Petra believes, that as voice teachers, we must never become complacent and it is important for us all to become perpetual learners, and this includes educating ourselves around areas of mental health. Petra explains, the more informed we are regarding the numerous ways to establish safe spaces in the voice studio, the less likely we are to behave in a manner that will cause further trauma to our students. She discusses the importance of defining clear boundaries between the role of a voice teacher and that of a therapist in the singing studio. Petra shares that it is acceptable for us, as voice teachers, to have empathy and to hold space for our students to be heard, however, there needs to be a very clear distinction between these roles for the welfare of the teacher as well as the student. This is a most informative episode, jam-packed full of useful tips for us all.
Learn more from Petra on her website: www.singingsense.com
9:04 - Petra's performance career in Germany 9:48 - Dealing with performance anxiety 16:08 - Petra's inspiration for studying psychology  17:59 - How Petra's psychology background helps her in the teaching studio 30:02 - Our responsibility as singing teachers 39:35 - The difference between trauma and a difficult time 45:55 - Supporting students who need additional assistance with learning 54:06 - Ensuring we are creating safe spaces for all 57:26 - Petra's courses and webinars in mental health
For more go to https://drmarisaleenaismith.com/46
Like this episode? Please leave a review here - even one sentence helps!
Follow me on Instagram.