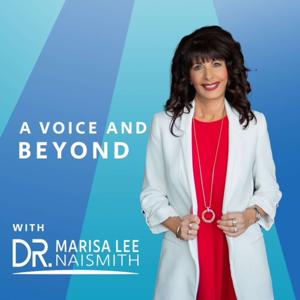 #66. Facing the Music: My Triumphs and Tribulations with Jeannette LoVetri Part I
06.05.2022 - By A Voice and Beyond
This week's guest is Jeannette LoVetri. Jeannette LoVetri is one of the most recognized and highly acclaimed voice teachers around the world. This is part one of a two-part interview round with Jeanie. In this episode, we have the honour of learning more about Jeanie and the journey which led her to a remarkable performance and teaching career, but most importantly, what inspired her to create the term Contemporary Commercial Music in 2000. CCM as we know it is now widely used in academia, science and research. Jeanie talks about those who inspired and influenced her learning of all things connected with the singing voice, and how she constructed her pedagogical approaches, which ultimately led her to develop, Somatic Voicework™, Jeanie's trademarked method which she created in 2002, and is now taught at Baldwin Wallace University every summer.
Jeannette is a trailblazer and continues to work hard to instigate changes in the way CCM is perceived within the singing voice community and what I learned is that Jeanie's success, has come about from her remarkable resilience, and curiosity for learning and sheer tenacity. I absolutely loved hanging out with Jeanie as she shared her stories, her struggles and her triumphs. I'm sure you are going to love listening to this episode and don't forget this is part one of my interview with Jeanie and in next week's episode, we will release part II.
In this episode
03:32 — Introducing Jeannette LoVetri
10:33 — Growing up in a musical family
14:11 — Getting into Manhattan School of Music
19:00 — Exposure to Broadway professionals
21:09 — Classical Training experience
24:13 — Realizing her voice didn't fit the mould
26:21 — The Voice Foundation at Juilliard School
29:16 — Attending the symposium for 10 years
33:44 — Writing a Complaint Letter to the Voice Foundation
34:55 — Doing research with Dr. Silver
43:05 — Putting electrodes and experimenting with her vocal cords
46:16 — Officially introducing the term CCM in a forum in 2000
48:23 — What really is Contemporary Commercial Music?
link to the summer Institute: https://bwcommunityarts.bw.edu/teacher-education/lovetri-institute/ Link to the free webinars:  https://us02web.zoom.us/meeting/register/tZ0rf-mqqT4rGtH5shlPPzKlFluKmcdfzATZ
For more go to https://drmarisaleenaismith.com/66
Like this episode? Please leave a review here - even one sentence helps!
Follow me on Instagram.