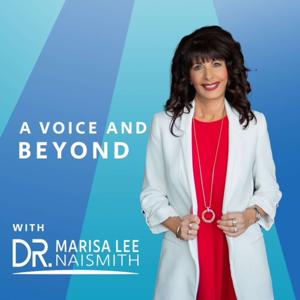 #5. Giving a Voice to Vocal Health with Dr Jenevora Williams
03.28.2021 - By A Voice and Beyond
Today's guest is Dr Jenevora Williams.
Jenevora is a passionate pedagogue who shares her unique insights into the teaching of singing and the training of singing teachers. Over the years, Jenevora has received international acclaim from the voice community for her pioneering work into the training of young singers. In this episode, Jenevora discusses her keen interest in vocal health and how she transitioned from her work with young voices and turned her attention to investigating healthy and efficient vocal function for singers of all ages. As a leading expert in the field of vocal health, Jenevora, explains how her practical experience has resulted in a unique understanding of the human voice from a holistic perspective. She firmly believes that the voice should be examined from a bio/physical and social standpoint and describes how all these factors can have a significant impact on voice production and vocal health. Jenevora discusses her teacher training program which has a particular emphasis on singing voice rehabilitation. For more about Jenevora, check out her website: https://jenevorawilliams.com For more about her program in vocal health education go to: https://vocalhealth.co.uk
For more go to https://drmarisaleenaismith.com/05
Like this episode? Please leave a review here - even one sentence helps!
Follow me on Instagram.