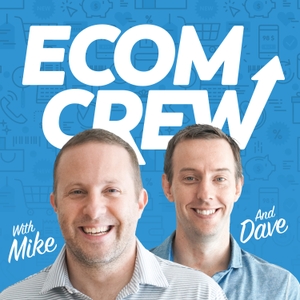 Time truly flies. We're just a quarter away from the holidays. That means a 'goals update' is long overdue. But, that's not necessarily a bad thing as I get to cover a lot of ground and take you on the journey I've been on this year.
It was definitely an eventful eight months. I sold one of our best-selling brands, freed up my time, and am now able to spend time in the RV on extended road trips while doing the EcomCrew Roadshow.
There were misses here and there, but significantly more wins. If you haven't listened to my previous updates, you can listen to them here and here. 
And now to the meat and potatoes of this episode. I've listed down the 19 goals along with their corresponding timestamps so it will be easier for you to follow along. 
* Sell a brand. (3:52)
* Position another brand for sale in late 2020. (4:38)
* Getting back to location independence. (5:32)
* Reducing debt to zero dollars. (8:04)
* Hike the West Coast Trail on Vancouver Island. (9:01)
* Take at least 10 weeks of personal travel. (10:59)
* Record 6 or more episodes of the Roadshow. (12:53)
* Invest in at least 1 ecommerce business. (14:16)
* Lose 10 more pounds. (15:21)
* Visit the Philippines office in 2019. (16:13)
* Start selling our services for EcomCrew. (17:03)
* Significantly improve the quality of the podcast. (17:50)
* Film season 2 of the 5 Minute Pitch. (19:35)
* Break each of our brands out into different companies. (20:40)
* Start hosting personal events for EcomCrew. (22:09)
* Speak at 6 industry events. (23:11)
* Shift to doing things that only bring me immense personal fulfillment. (24:23)
* Do intermittent fasting for all of 2019 and eat less meat. (24:59)
* Not to drink the rest of 2019. (26:40)
Learn to find and develop products that stand out from all of the me-too crap everyone else is selling. Sign up for the September 12 webinar.
Try out Kickfurther today! Get $500 off of Kickfurther's services when you sign up for a business account or receive $10 when you join as an investor.
I hope you enjoyed this latest installment of the podcast. As always, feel free to leave a comment below. If you think this episode has been useful to you, please take a moment to leave us a review on iTunes.
Till the next one. Happy selling!
Full Audio Transcript
This is Mike. Welcome to episode number 279 of the Ecomcrew podcast. So glad to have you guys along with us today. And hello from sunny and beautiful British Columbia. Up here in Vancouver, it's a great time of year to be up in Vancouver, Seattle, any of these Pacific Northwest cities. I've gotten sucked into being up here in the past and almost moved here before we're thinking about it again after spending the last couple weeks up here. Its just a beautiful place to be in the summertime. And also, it's been a special trip and hanging out with Dave Bryant, Dave Coulliard, Mike Ketchum, my wife, Dave's family. It's been a really productive and fun trip, gotten a bunch of stuff done for Ecomcrew. Just been chilling out up here and enjoying the city. Dave was right in Vancouver proper and just walking around, getting good food, playing tennis, doing some hikes and things like that.