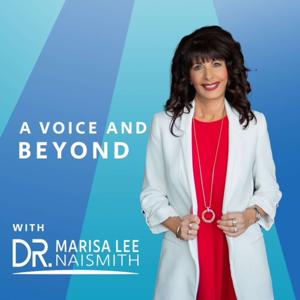 #64. How to Achieve a Healthy Relationship with Food with Kimberley Bell
05.22.2022 - By A Voice and Beyond
This week's guest is Kimberley Bell.
Body shaming and having a distorted self-body image can lead to negative thought patterns and these thoughts can sometimes trigger eating disorders in some people, which can be life-threatening such as bulimia, binge eating and at the opposite end of the spectrum, anorexia. Kimberley Bell who is a Registered Nutritionist and Master NLP Practitioner, is this week's guest on our show and she candidly opens up about her own personal struggles with an eating disorder which resulted from being body-shamed as a teenager going through puberty. She shares how this ultimately led to her relationship with food spiralling out of control and she became a binge eater. What she discovered when she went to seek help was, that in order to beat binging, you have to fix both the physical and emotional triggers. She tells us, that it doesn't matter how mentally strong you are, if your body is crying out for nutrients, it's going to be extremely difficult to resist a binge on mental strength alone.
Kimberley found that the most powerful way to stop is to target both the physical and mental aspects. In today's show, Kimberley explains the benefits of the program she has founded in order to help other women overcome eating disorders, called Mind Your Nutrition, and she also gives us some excellent advice on what sensible eating for good nutrition consists of. There is so much great information shared in this episode that relates to all of us, irrespective of whether we or someone we know is struggling with an eating disorder.
In this episode
05:05 — Kimberley's career and early nutrition journey
16:58 — 3 Main Eating Disorder Categories
19:27 — When do eating disorders become life threatening?
20:59 — Signs of an Eating Disorder
24:41 — Has COVID-19 spiked an increase in Eating Disorder cases?
25:11 — Does Social Media play a big role in food and body relationships?
27:21 — Kimberley's Nutrition Program
31:41 — Should the word "diet" be removed / replaced from the English language?
36:42 — Food companies' propaganda's and advertising impact
40:24 — Worst foods to eat in terms of overall health
45:24 — Types of Weight Loss Diets
48:02 — Benefits and Importance of Fasting
51:24 — Correlation between eating a type of food and mental health issues
55:30 — Kimberley's nutrition advice for the voice community
Kimberley's Links
Instagram: @mindyournutritionnz
Website: www.mindyournutrition.co.nz
Youtube: https://www.youtube.com/channel/UCnSXXpPGuH87R9WVdO_4qTA
For more go to https://drmarisaleenaismith.com/64
Like this episode? Please leave a review here - even one sentence helps!
Follow me on Instagram.