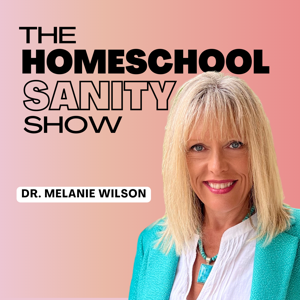 Hey homeschoolers!
As beginning homeschoolers, we tend to be way more focused on our homeschool space and curriculum then we are on relationships. But just as engaged couples should be focused more on the marriage then the wedding, we have to be intentional about developing our relationships. That's what I will cover in this episode of the Homeschool Sanity Show.
Before I do, however, I want to tell you about The Organized Homeschool Life book and planner. I had good intentions of spending time with God, my husband, and my children one-on-one. But it was amazing how quickly my daily responsibilities got in the way of that. I still face temptations to make other things a priority. That's why I added space for my time with God and my relationships on the daily page of The Organized Homeschool Life Planner. We make note of what God is saying to us in His Word each day--something that is so important at this time. Then we choose a person or a character quality we want to focus on throughout the day. Keeping relationships in focus is one reason you will come to look forward to your daily planning time. You'll know that your life and homeschooling are in balance. Try a free sample of The Organized Homeschool Life book and planner at psychowith6.com/tohlplanner.
When it comes to keeping relationships a priority, there are five relationships that are deserving of special attention: God, spouse, children, extended family, and friends.
#1 Relationship with God
The first relationship we have that has to be a priority is our relationship with God. I could not do any of the things I do without the Holy Spirit strengthening and renewing me. I need God's word each and every day. That's because I hear other words that run counter to His in abundance. I hear them from the news, the radio, and social media. I even hear them from well-meaning people I talk with. I quickly become confused about what truth is.
As our students need drills on math facts, we need drills on God's word so we achieve mastery. Reading directly from the Bible each day, even a single page, will be a layer of protection for our vulnerable minds. Audio Bibles are wonderful for busy moms. We can listen while we walk, fold laundry, or cook. Devotionals are another way of reflecting on God's word that can be enjoyable for us as homeschooling moms. Listening to worship music can also keep us meditating on His word. I have been successful in memorizing God's word with my kids by using the app MEMLOK just five minutes a day.
Prayer is a vital part of our relationship with God. Rather than turning to others first with a concern, we can train ourselves to go to God. I enjoy writing out prayers each day. When I'm really struggling, I use truth journaling. I write out what I'm thinking and feeling and then respond to myself with the truth. We can pray throughout the day, using waiting, driving, nursing, and sleepless times for connecting with God.
Using the time boundaries we've established, we can ensure that we are spending adequate time with God. We can also experiment to find the best time to be consistent in our prayer and Bible time. We could plan it for the morning, the evening before bed, or during kids' free time. Whenever you plan it, you will be richly rewarded for having time devoted to the Lord.
#2 Relationship with Spouse
The second relationship we must prioritize is with our spouse. If you are not married, I encourage you to prioritize time with your main support person.