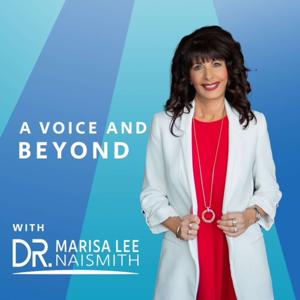 #21. It's Menopause, Not Vocal Death (Part II) with Nancy Bos
07.25.2021 - By A Voice and Beyond
This is part II of my interview with the inspirational Nancy Bos. Nancy is an international speaker and clinician on singing and speech, as well as the acclaimed author of a number of best-selling books, including The Teen Girl's Singing Guide. She is also co-author of the book Singing Through Change: Women's Voices in Midlife, Menopause, and Beyond which has touched the lives of many female singers who are going through perimenopause and menopause and those of us working with singers during that phase in their lives.
In this episode, Nancy speaks candidly about the changing female voice and the uncertainties women are confronted with physically, hormonally and vocally as they enter perimenopause and menopause. Her attitude is one of preparedness and education in order for women to understand what is about to happen throughout these difficult and unpredictable stages, before they begin to happen.
Nancy also describes the various hormonal changes experienced by women as they enter perimenopause and menopause and the most common challenges female singers will experience during this part of their lives. Nancy shares with us her mission is to encourage and educate women who love to sing that they are not alone.
Singing Through Change
In this episode
1:09 - Introducing Nancy Bos 5:30 - Singing through change 7:52 - Perimenopause  12:33 - The impact on the vocal folds 19:19 - Menopause  21:14 - Nancy's Menopause journey 24:57 - Marisa's Peri-menopause journey 35:38 - The wrap up on menopause  37:28 - Nancy's future plans & projects 42:50 - Nancy's advice for women
Celebrate singing with Nancy Bos: https://celebratesinging.live/
Nancy's publishing company Studiobos
For more go to https://drmarisaleenaismith.com/21
Like this episode? Please leave a review here - even one sentence helps!
Follow me on Instagram.