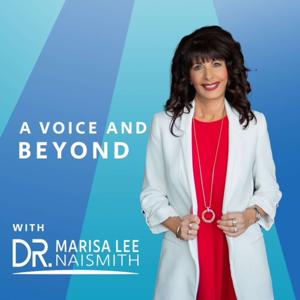 #73. Making Voice Pedagogy Accessible For All with Dr Shannon Coates Part II
07.24.2022 - By A Voice and Beyond
This week's guest is Shannon Coates.
This is part II of my interview with Dr Shannon Coates, who is an educator, international presenter on Voice Pedagogy, creator of The Vocal Instrument 101 Online Course and in more recent times creator of the VoicePed UnDegree. In this episode, we continue with Shannon's candid interview as she delves deeper into some of her teaching philosophies, and her beliefs regarding the current state of academic systems that are presently not delivering the training required to equip CCM singers for a professional career. Some of the topics Shannon shares her views on include, how we as voice teachers must ensure that what we think and what we do aligns with our core values and that it is essential that we check in with our biases in order to create inclusive voice studios. Furthermore, Shannon explains that there is more than one way to achieve results, and as voice teachers, we must be open to the possibilities of what a voice can do and how the voice can work efficiently to create the tonal outcomes required by the singer. We must not get stuck in a binary system where something is either right or wrong because the voice is a complex system that is different from person to person. Shannon's mission is to continue to make vocal pedagogy practical, applicable and accessible, for everyone, especially for those outside of academia. There is so much more in this is a brilliant interview with Dr Shannon Coates. Online Course: https://drshannoncoates.com/the-vocal-instrument-101-online-course/
03:24 – Personal experience with being silenced
07:49 – Discussion Post
10:13 – Dr. Shannon's Pet project
13:42 – Teaching different techniques
15:08 – Understanding the possibilities of what the Voice can do
18:44 – Treating Voice as a complex instrument
21:04 – Understanding Formants in voice
26:32 – Things missing in terms of Singer's Higher Education Training
31:09 – The Academic system's promise
33:34 – Is CCM teachable in the academic system?
35:52 – Finding your authentic sound
40:38 – The Voiceped Undegree program
42:41 – What's next for Dr. Shannon?
46:42 – Thoughts on Methodologies
51:52 – One piece of advice for the singing voice community
For more go to https://drmarisaleenaismith.com/73
Like this episode? Please leave a review here - even one sentence helps!
Follow me on Instagram.