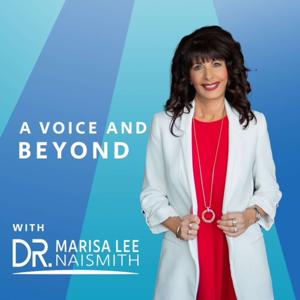 #24. Practical Approaches to Train & Support Transgender Singers with Nadine Manion
08.15.2021 - By A Voice and Beyond
Today's guest is Nadine Manion.
Nadine is an established and highly sought after singing teacher, vocal coach, presenter and researcher. In 2020, Nadine was awarded the Dr. Iain C. Medgitt Churchill Fellowship to investigate vocal technique and care of the transgender singing voice in the applied voice studio.
In this episode, Nadine discusses her research work in the field of transgender and gender-diverse singing voice and how this work has informed the practical approaches she has developed to train and support this group of singers. Nadine shares with us the significance of student-centric learning and she stresses that our teaching must be guided by the individual goals and specific needs of the trans singer and these must be addressed with care and sensitivity.
Nadine discusses many aspects of training trans singers such as the impact of hormone therapy on the voice, the vocal evaluation process for a transgender student, how to deal with expectations and perceived outcomes when it may become necessary to employ the services of a speech therapist, examples of exercises for range extension and there is so much more from Nadine. This episode is very informative for anyone working in the voice community and is helpful in creating gender-affirming spaces within our studios.
In this episode
1:08 - Introducing Nadine Manion 7:18 - Nadine's Transgender Research 16:00 - Creating a safe teaching space  19:30 - Impact of hormone therapy on the voice 31:10 - Helpful exercises for voice exploration 39:09 - Finding an authentic singing voice 43:07 - Explaining the term cisgender 47:09 - Exploring gender affirmation 54:33 - Nadine's advice for the teaching community 56:34 - Nadine's upcoming workshop for teachers
Find Nadine Manion online Website: nadinemanion.com
For more go to https://drmarisaleenaismith.com/24
Like this episode? Please leave a review here - even one sentence helps!
Follow me on Instagram.