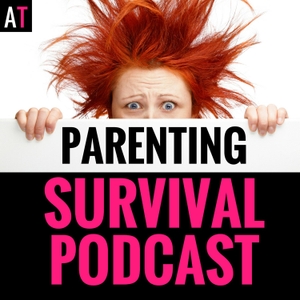 It seems like more and more these days we are having to cope with some horrific things. Mass shootings, school shootings, bombings, hate crimes, environmental disasters and devastating weather are things that we and our children have to contend with all too often. How do we talk to kids when something bad happened?
It is tricky. Many of us just avoid it altogether. But unfortunately our kids do not live in a bubble.
I invited Dawn Huebner to the AT Parenting Survival Podcast to dive deeper into this topic. She is one of my absolute favorite authors! She is the author behind What to Do When You Worry too Much, Outsmarting Worry and What to Do When Your Brain Gets Stuck…just to name a few!
She has just released her new book called, Something Bad Happened. In her new book, she helps kids process local and global tragedies that are happening all around us. She gives a beautiful perspective and an uplifting view on a somber topic.
On the podcast, Dawn offers some great advice for parents and gives her perspective on how to help our kids in these changing times.
To check out her new book, Something Bad Happened go to: https://amzn.to/2m9j1Vu
***
To sign up for the free picky eating online workshop go to: www.bit.ly/pickyeatingworkshop19
To enroll in Alisha Grogan's picky eating online class, go to: www.bit.ly/pickyeatingclass19
 See acast.com/privacy for privacy and opt-out information.