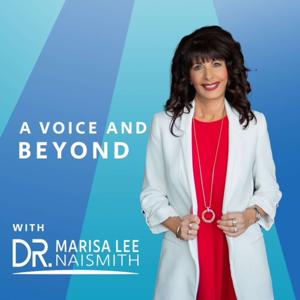 #60. The Detection and Treatment of Voice Disorders with Lori Sonnenberg
04.24.2022 - By A Voice and Beyond
This week's guest is Lori Sonnenberg. Lori Sonnenberg is a Chicago based Licensed Speech-Language Pathologist, Clinical Voice Specialist, and Singing Voice Specialist whose clients include professional performers, educators and speakers. In her voice clinic, Lori works exclusively with voice and breathing disorders and specialises in muscle tension dysphonia related disorders, recovery from voice injuries, professional voice care and support, post-operative voice recovery, and problematic technical voice issues for singers.  In this episode, Lori explains what is involved in the initial consultation with a patient, including the diagnostic process and gives us an insight into the treatments she uses to assist her patients to recover from voice disorders and pathologies. Prevention is better than cure and Lori explains how we as voice teachers can detect when there is a potential problem occurring within our own instrument as well as that of our students and when to proactively seek the help of a voice specialist before it's too late.  Lori also discusses the impact of COVID on the singing voice, misconceptions concerning the incidence of vocal pathologies across genres, how we as a voice community can listen better and the importance of supporting and not shaming singers through voice problems. This interview with Lori Sonnenberg is a must-listen.
In this episode 04:38 – Lori's early singing days
20:46 – The Diagnostic Process for patients
23:30 – What Causes Muscle Tension Dysphonia?
25:36 – Treating Muscle Tension Dysphonia
28:55 – Mucosal Swelling
31:17 – Voice's Warning Signals
36:48 – How do you know if your vocal folds are swollen today?
42:09 – What are the worst injuries one can have as a singer?
49:10 – A Voice World
50:13 – Do CCM singers experience Voice Injuries and Disorders more often than Classical Singers?
53:33 - Getting confusing messages in terms of Vocal Health
56:46 – Lori's favourite Vocal Warm up
1:01:13 – Lori's favourite Vocal Cool down
1:02:52 – COVID's effect to voice
1:07:26 - Piece of advice for teachers in the singing voice community
Lori's Links
www.sonnenbergvoice.com
www.facebook.com/sonnenbergvoice
instagram.com/sonnenbergvoice/
linkedin.com/in/lori-l-sonnenberg-51502b158/
For more go to https://drmarisaleenaismith.com/60
Like this episode? Please leave a review here - even one sentence helps!
Follow me on Instagram.