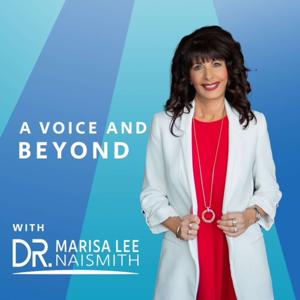 #11. The Power of Resilience, Curiosity, and Transformation for Longevity with Lisa Popeil
05.16.2021 - By A Voice and Beyond
Today's guest is Lisa Popeil.
Lisa is a prominent voice teacher, voice researcher, musician, author and workshop presenter. Lisa shares her music industry experiences as a female recording artist who emerged in the 1980's and how she has managed to sustain an enduring career in the industry by understanding the significance of resilience, tenacity and reinvention as a performing artist. Lisa describes how she has successfully transitioned across a variety of roles within the industry fuelled by her keen enthusiasm to learn, her natural curiosity and her love for music and the singing voice. This is a rare insight into Lisa's personal and professional journey touring and performing with artists such as Frank Zappa and "Weird Al" Yankovic. In this episode, Lisa offers her pearls of wisdom based on her professional career that has spanned for over 50 years for the singing voice community to enjoy.
https://www.popeil.com/
In this episode
01:08 - Introducing Lisa Popeil 09:01 - Lisa's childhood 19.20 - Lisa's early vocal training 22:57 - Deciding on a music school 24:03 - Lisa's first job 28:35 - Writing music in the 80's 33:55 - Where is the industry heading? 44:33 - Touring with Weird Al Yankovic 48:54 - Resolving problems on tour 52:19 - Managing sleep and self-care 1:02:09 - Staying resilient and humble 1:04:41 - The impact of performance experience 1:14:15 - Lisa's current plans & projects
For more go to https://drmarisaleenaismith.com/11
Like this episode? Please leave a review here - even one sentence helps!
Follow me on Instagram.