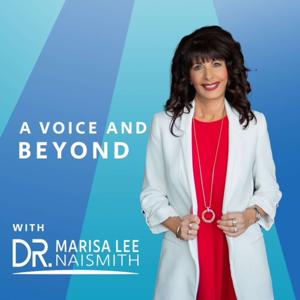 #17. Training Vocal Athletes for Durability, Strength and Survival (Part I) with Dr Wendy LeBorgne
06.27.2021 - By A Voice and Beyond
Today's guest is Dr. Wendy LeBorgne.
Wendy is a highly sought-after voice pathologist, speaker, author, and vocal-athlete coach who works with a diversity of elite professional performers from Grammy award winning singers embarking on national tours, to those on the bright lights of Broadway. This is part 1 of a two-part interview with Dr Wendy LeBorgne and in this episode, Wendy shares her approaches and philosophies to training singers and how she cares for vocal injuries. She believes that singers are vocal athletes, who not only embody the voice, but also the body, mind and spirit.
Wendy speaks candidly about some of the causes of vocal pathologies across all genres and how she prepares an elite vocal athlete for durability, strength and survival. Wendy also talks about what self-care means to her and how her personal regime of self-care has helped her survive the effects of the pandemic.
www.drwendyvoice.com
In This Episode:
1:09 - Introduction 4:56 - Dr Wendy LeBorgne early career 10:56 - Most common issues found in singers 17:53 - Are there different pathologies for different genres? 23:22 - The birth of the vocal athlete idea 26:12 - Tips for optimal performance 38:54 - Juggling mother, wife & work demands For more go to https://drmarisaleenaismith.com/17
Like this episode? Please leave a review here - even one sentence helps!
Follow me on Instagram.