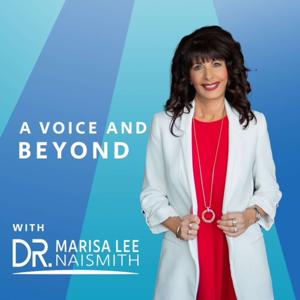 This week's guest is Meredith Colby.
Meredith Colby is an author, teacher, speaker and the creator of Neuro-Vocal, an approach to teaching singing for popular music styles based on brain science. In this episode, Meredith speaks candidly about her professional career, the demands of the CCM industry for singers, the lack of formal training for the styles she was performing and the vocal issues she encountered as a classically trained singer working in a touring rock band. She firmly believes that the many years of classical training she received did not give her the tools she needed to sustain the styles she was performing and ultimately led to her vocal burnout. These experiences inspired her to research and write her book, Money Notes, in which she introduces Neuro-Vocal, a fast, effective training approach that encourages healthy singing habits for microphone singers and is based on neuroscience. 
Neuro-Vocal teaches students to steer changes in their brains and to be guided by these changes as they occur. Meredith breaks down her approach which has been proven to achieve remarkably fast results and puts the student in the driver's seat. Not only that, but equips singers with tools for a healthy voice that will last for a lifetime? There is so much to unpack in this show and I know you are going to love all the information Meredith has to share with us.
In this Episode 04:11 – Meredith's earliest singing memories
09:16 – Frustration for not being able to sing loudly
12:18 – The kind of music Meredith was performing
13:01 – Classical music experience
17:48 – Ignoring her voice's health warning signs
25:50 – How did you hear your voice?
26:43 – Talking to a Laryngologist and avoiding surgery
30:53 – Aha moment from Cyndi Lauper and Patti LaBelle
31:22 – Transitioning to being a voice teacher
34:50 – The Neuro Vocal Method
40:25 – The Alexander Technique
54:17 – Being a Vehicle for the Composer's Intent
1:00:49 – Helping people find their own voice
1:01:50 – Training program exercises
1:14:23 – Meredith's greatest piece of advice for the singing voice community
Meredith's Links
https://www.meredithcolby.com/
https://www.meredithcolby.com/nvm-certification
https://itascabooks.com/money-notes-how-to-sing-high-loud-healthy-and-forever/
https://www.meredithcolby.com/online-store/Money-Notes-E-Book-p153635065
https://moneynotes.teachable.com/courses/introduction-to-neuro-vocal-method
For more go to https://drmarisaleenaismith.com/61
Like this episode? Please leave a review here - even one sentence helps!
Follow me on Instagram.