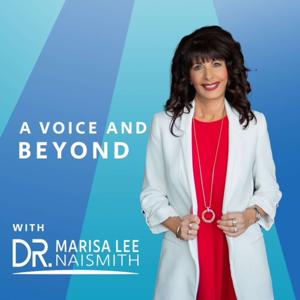 #20. You Have a Right to Use Your Voice (Part I) with Nancy Bos
07.18.2021 - By A Voice and Beyond
Today's guest is Nancy Bos.
Nancy is an acclaimed author, international speaker, and owner of StudioBos Media, who has taught voice for over twenty years. As a globally recognized voice expert, Nancy truly believes that everyone has a right to sing and to use their voice. In this episode, Nancy explains that voice teachers are incredibly lucky people, because they have the opportunity to live out their passion every day and witness the joy of transformation and empowerment in their students. Nancy shares her personal story of how she had to unlock her own voice which had been suppressed as a child, as well as, overcome severe performance anxiety in order to help others reach their highest potential. She opens up about her life's mission to inspire people all around the world to find the freedom to express, through voice, that part of who they are that connects us all. This is part one of a two part interview with Nancy and I'm sure you are going to truly be captivated by her wisdom and experiences. Without further ado, let's go to today's episode.
In this episode
1:09 - Introducing Nancy Bos 6:49 - Nancy's first singing lessons 11:17 - Change of direction 15:38 - Dealing with performance anxiety 30:11 - Singing through change  37:46 - Today's generation of women 40:43 - Helping people find their voice 44:48 - Getting over performance anxiety 51:24 - Meditation
Celebrate singing with Nancy Bos: https://celebratesinging.live/
New menopause Book Singing Through Change
Nancy's publishing company Studiobos
For more go to https://drmarisaleenaismith.com/20
Like this episode? Please leave a review here - even one sentence helps!
Follow me on Instagram.How to Live Your Best Life Now! Listen to the Good Life Project Podcast.
Insights, ideas & stories from leading voices and experts that help you live a good life.
Listen on: Apple Podcasts   Spotify