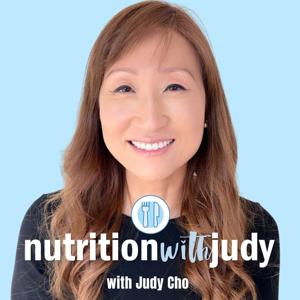 147. Expert's Finding on the Cause of Insulin Resistance - Dr. Ben Bikman
12.06.2021 - By Nutrition with Judy
I'm super excited to share this interview with you. I had the opportunity to sit down with Dr. Benjamin Bikman. We talked a lot about insulin resistance and the concerns going on right now.
Dr. Ben Bikman's research focus is to elucidate the molecular mechanisms that mediate the disruption that causes and accompanies metabolic disorders, such as obesity, type 2 diabetes, and dementia. Driven by his academic training (Ph.D. in bioenergetics and postdoctoral fellowship with the Duke-National University of Singapore in metabolic disorders), he is currently exploring the contrasting roles of insulin and ketones as key drivers of metabolic function. He frequently publishes his research in peer-reviewed journals and presents at international science meetings.
Dr. Bikman spends most of his time tending to his responsibilities as a professor and researcher in the Department of Physiology and Developmental Biology at Brigham Young University in Provo, Utah. However, his passion and energy have driven him beyond science to develop tools and resources that are helping change the world's health through insulin control.
1:26 All about Dr. Benjamin Bikman
2:25 The cause of insulin resistance
5:49 Three primary causes
7:01 Secondary cause
9:49 Non-dietary factors effect on insulin resistance
12:11 Thoughts on linoleic acid (PUFA)
13:56 Glucose levels increasing on a carnivore diet
20:23 Fatty fish and fish oil supplements
23:23  Survival of the Fattest by Stephen Cunnane. Human brain development
29:21 Ketogenic diets improve insulin resistance
33:17 Thoughts on protein
37:19 Uric acid from fructose consumption
38:57 Theobromine in drinks
41:17 Best ways to support insulin sensitivity
45:37 Sleep and insulin resistance
50:58 Thyroid hormone and its effect on muscle cells
54:30 Thoughts on carbohydrates
57:37  Bikman's new meal replacement drink
1:04:17 Maltodextrin ingredient
1:05:40 Baby formula
1:07:04 Outro and where to find Dr. Benjamin Bikman
_____ RESOURCES - Dr. Benjamin Bikman: bikmanlab.byu.edu
- Facebook
- Twitter
- Instagram
- HLTH Code
- Bikman's Book: Why We Get Sick
- Recommended Book: Survival of the Fattest ____ CHECK OUT MY BOOK, Carnivore Cure SIGN UP FOR MY WEEKLY NEWSLETTER:  _____  ADDITIONAL RESOURCES Nutrition with Judy Articles Nutrition with Judy Resources Cutting Against the Grain Podcast _____  FIND ME