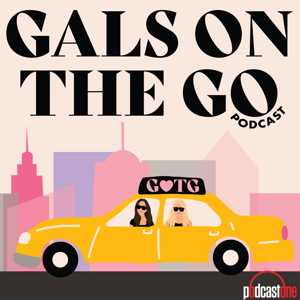 Brooke and Danielle are solo today and talking CONFIDENCE!!!  The gals talk about their best confidence tips and tricks, share stories of when they felt confident (and not so confident) and hype each other up!  The gals also discuss their experience with the snow storm the past week, and Brooke discusses the "hard launch" of her boyfriend on instagram.  Be sure to follow and tag @galsonthegopodcast in your listening selfies/stories!
Get tickets to the GOTG live show! https://app.loopedlive.com/c/3803
SHOP GOTG MERCH! https://fanjoy.co/collections/gals-on-the-go
GOTG YouTube Channel (watch full episodes with video!)  https://www.youtube.com/channel/UCkCy3xcN257Hb_VWWU5C5vA  
Gals On The Go Instagram https://www.instagram.com/galsonthegopodcast/  
Brooke's Youtube Channel https://www.youtube.com/brookemiccio  
Brooke's Instagram https://www.instagram.com/brookemiccio/  
Danielle's Youtube Channel https://www.youtube.com/c/daniellecarolan  
Danielle's Instagram https://www.instagram.com/daniellecarolan/  
Business Inquires Can Be Sent to: [email protected]
Please support the show by checking out our sponsors!
OSEA: Find your new skincare favorites at OSEA Malibu dot com, and get a special discount just for our listeners. Get 10% off your first order with promo code GALSONTHEGO at OSEAmalibu.com.
Stitch Fix: Get started today by filling out your free style quiz at StitchFix.com/ONTHEGO, and
take advantage of free shipping and returns
Zocdoc: Go to Zocdoc.com/GALSONTHEGO and download the Zocdoc app for FREE. Then start your search for a top-rated doctor today.
BetterHelp: Gals on the Go listeners get 10% off their first month at BetterHelp.com/GALS
Merrell: Head to Merrell.com to check it all out!