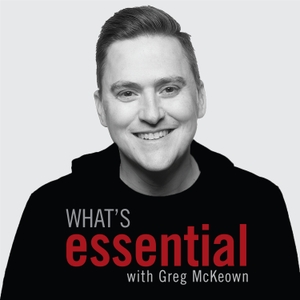 What's Essential hosted by Greg McKeown
By Greg McKeown, Scratch Audiohouse
What's What's Essential hosted by Greg McKeown about?
Have you ever found yourself stretched too thin? Felt busy but not productive? Or like your time is constantly being hijacked by other people's agendas?
I'm Greg McKeown, and welcome to the Essentialism podcast. Through my best-selling book Essentialism: The Disciplined Pursuit of Less, I've been fortunate to help many people deliberately distinguish the vital few from the trivial many and then remove these obstacles to create a clear path to accomplishing what matters. The Way of the Essentialist is not about trying to fit it all in - it's about fitting in only what matters.
Aspiring essentialists are always asking me for how they can apply these principles to their own lives. They want real examples from real people. This Essentialism podcast is my answer. Every week, we have conversations - sometimes with thought leaders, sometimes with celebrities, and often with people like you and me - to understand what they want to prioritize and help them apply Essentialism to achieve their goals in real life. I answer listener questions and talk about my own experiences as well, as I too am an aspiring Essentialist! You're invited to join us and take an hour or two a week to focus on learning how to put what matters to you first.
After all, if you don't prioritize your life, someone else will.