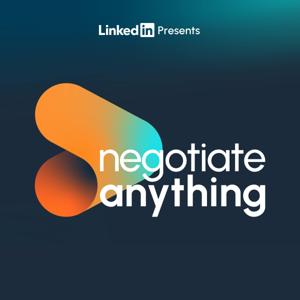 Negotiate Anything
By Kwame Christian Esq., M.A.
What's Negotiate Anything about?
"Negotiate Anything" is the #1 negotiation podcast in the world, celebrated with over 10 million downloads, hundreds of 5-star reviews, and a global audience from +180 countries.
Negotiation is the ultimate problem solving tool, allowing you to not only get better deals, but to also have better relationships.
Our podcast dives deep into the art of negotiation. Hosted by lawyer, bestselling author, and CEO of the American Negotiation Institute , Kwame Christian Esq., M.A., each episode is a transformative journey that equips listeners to confidently navigate challenging conversations with negotiation and communication experts around the globe.
Listeners learn to balance assertiveness with empathy, building trust while setting boundaries and managing emotions. As in the bustling business world, exceptional negotiation skills can be the differentiator, our episodes are tailored to give you that unique advantage.
But it's not just about transactions or business discussions. "Negotiate Anything" emphasizes that life itself is a series of negotiations. Whether you're deliberating with a tough client, discussing terms with a new partner, or navigating personal relationships, our show promises invaluable insights.
Prepare to immerse in practical scenarios, absorbing techniques that don't just improve your negotiation prowess but also elevate your career and personal life.
At The American Negotiation Institute, we believe the best things in life are on the other side of difficult conversations. And our goal is to change the world, one difficult conversation at a time.
So, tune in, and empower yourself with the tools to negotiate anything, anywhere.
Produced by the American Negotiation Institute
Part of the LinkedIn Podcast Network
About the host:
Kwame Christian is a business attorney, best-selling author, and Founder & CEO of the American Negotiation Institute  (ANI), a global consulting firm that specializes in negotiation and conflict resolution.
Recognized as one of the world's top negotiation experts, Kwame gained prominence after his viral TEDx Talk, Finding Confidence in Conflict, which has garnered over 400,000 views. He has authored two best-selling books, Finding Confidence in Conflict: How to Negotiate Anything and Live Your Best Life (2020) and How to Have Difficult Conversations About Race: Practical Tools for Necessary Change in the Workplace and Beyond (2022). He is also a regular contributor to Forbes.
Kwame is also the host of Negotiate Anything, the world's #1 negotiation podcast, which has attracted more than eight million downloads and listeners in over 180 countries since its inception in 2016. He has taught negotiation, communication, and mediation advocacy at the university level, including The Ohio State University Moritz College of Law, the country's top-ranked law school dispute resolution program.
Kwame earned his law degree, masters in public policy, and bachelors in psychology from The Ohio State University. He was the winner of the John Glenn College Young Alumni Award (2020) and Moritz College Outstanding Recent Alumnus Award (2021), making him the only person in the university's history to win alumni awards in consecutive years from both the law school and the masters of public affairs program. He was also named among Columbus' 2022 40 Under 40 award recipients.
In addition to his accomplishments, Kwame is a practicing attorney, working with businesses and their owners to secure better deals, solve complex problems, and overcome legal challenges. He is also a popular LinkedIn instructor, teaching over a dozen courses with over 600,000 learners taking his courses.
Outside the professional sphere, Kwame is a devoted family man and proud father of two boys. An avid chess enthusiast, he has played over 20,000 games and earned a ranking in the 99th percentile on Chess.com.