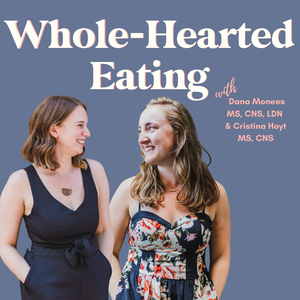 In today's Holiday BONUS episode we're talking about the #1 biggest mistake keeping you in the holiday food anxiety cycle, and why there is an overwhelming feeling in the holidays that something needs to be resolved in the new year. In case you missed it, don't forget to check out last week's bonus episode: 4 Questions to Ask Yourself Before the Holidays get Crazy.
Of course we're so conflicted about how to approach the holidays, because we're being assaulted on all sides by either: "eat all the things! It's the holidays and it doesn't matter!" or "earn your calories! Only eat certain indulgences, and then work them off with exercise!". And in both situations, it almost always ends up as "screw it, I'll fix it in January."
So where do we go from here? That's exactly what we're discussing in today's episode on the holiday food anxiety cycle with Cristina Hoyt Alvarez!
You can also read more about this topic in this blog post: The #1 Mistake Keeping you in the Holiday Health Anxiety Cycle.
PS – we have something really exciting coming up. Check out a preview here.
PPS – if you're looking for that delish recipe I mentioned in the intro to the show, here it is: Brazi Bruschetta Bites with Prosciutto and Apples, which is a perfect holiday appetizer!