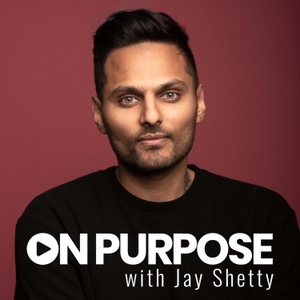 Rachel Hollis ON: The Courage to Make Mistakes & How to Stay Motivated in Difficult Times
09.06.2021 - By On Purpose with Jay Shetty
Rachel Hollis sits down with Jay Shetty to talk about loving yourself and seeing failure as success. We all need to learn to see the positive aspects of every failure in our life, to take proper care of ourselves by taking good care of our health, to sit down and process pain and grief at our own pace, and to never lose ourselves just to keep a relationship.
Rachel is #1 New York Times Best-Selling and a motivational speaker. She authored three self-help books including Girl, Wash Your Face and Girl, Stop Apologizing. Aside from keeping herself busy with her podcast, The Rachel Hollis Podcast, she's also founded The Hollis Company, a media company that exists to arm people with the tools to make positive and lasting change. 
What We Discuss with Rachel:
00:00 Intro
02:06 Mental illness is not just about taking prescription medicine
06:00 Being intentional about trying to live in a healthy way
12:17 What the evolution of social media is doing to us
21:05 "My advance for my first book, which was Party Girl was $1,000."
24:02 When something shakes the best life you think you have
38:24 Journaling every single morning to remember conscious moments
41:53 Pushing yourself to get over a difficult moment in your life
46:31 A different view of failure
54:48 You create something that you value and believe in and put it out there
59:10 There are many parts of us that can make a better version of ourselves
01:05:38 Feeding into your own narrative
01:09:24 "An apology without action or change is empty."
01:12:27 Having support from people who cares without high expectations
01:17:14 How do you establish boundaries when you haven't done it before?
01:22:33 What's your love language?
01:26:00 Don't make other people's process of pain about you
01:29:10 You're trying to be the person who your partner thinks you are
01:37:19 We need to stop seeing the end of things as failure
01:40:40 Rachel on Final Five
Like this show? Please leave us a review here - even one sentence helps! Post a screenshot of you listening on Instagram & tag us so we can thank you personally!
Grab a copy of your own Think Like A Monk book. Get the audiobook here: https://amzn.to/2THCYUu 
Episode Resources:
Rachel Hollis | Instagram
Rachel Hollis | Facebook
Rachel Hollis | Amazon
Hollis Co.
Achieve success in every area of your life with Jay Shetty's Genius Community. Join over 10,000 members taking their holistic well-being to the next level today, at https://shetty.cc/OnPurposeGenius