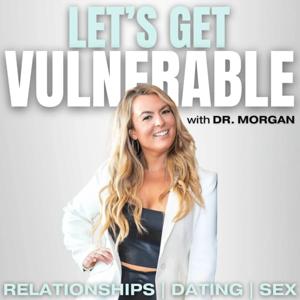 Let's Get Vulnerable: Relationship and Dating Advice
By Dr. Morgan Anderson
What's Let's Get Vulnerable: Relationship and Dating Advice about?
Are you ready to take the mystery out of having great relationships and to gain the knowledge you need to step confidently into the next level of your life? Welcome to the Let's Get Vulnerable podcast where your host, Dr. Morgan Anderson, gives you real talk on all things dating, relationships, and sex. Dr. Morgan is a relationship coach, psychologist and creator of the E.S.L relationship method. She brings humor, truth and knowledge to the complex world of dating and relationships. Podcast episodes will provide you with tangible strategies that you can implement immediately to improve your life and attract the exact relationship you desire. Episodes will feature expert advice from your host and psychologist, Dr. Morgan Anderson, interviews with incredible people offering you their stories and wisdom, and LIVE coaching sessions where you will have an exclusive glimpse into the growth process as it is unfolding. Episodes are recorded in a live format to give you the feel of a live talk show; episodes are non-scripted and unedited. The content of the episodes is bound to make you laugh, cry, improve your relationships and go confidently after your dreams like never before. So what are you waiting for? Let's Get Vulnerable!
If you enjoy listening to this show, it would mean the world to us if you would write a 5-star review for our show. This act of giving back will help this show grow so that it can be found by others who will benefit from the content. Thank you in advance for taking the time to leave us a review on Apple Podcasts!
If you're not part of the Dr. Morgan community on social media yet, make sure you go follow her for daily inspiration, tips, and knowledge to improve your life and relationships!
INSTAGRAM: @drmorgancoaching
FACEBOOK: @drmorgancoaching
Website: www.drmorgancoaching.com