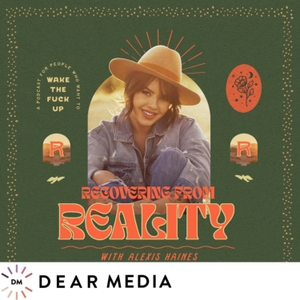 Recovering From Reality
By Dear Media, Alexis Haines
What's Recovering From Reality about?
Alexis Haines hosts the raw and touching new podcast Recovering from Reality. Created to normalize the struggles many people face and provide a platform where guests get real about overcoming trauma, these courageous stories of survival provide hope and optimism for those trying to live a more fulfilled life.
Stories of survival deserve to be told with pride. Recovering from Reality is for those who have gone through hell and emerged on the other side. By sharing our journeys like a badge of honor, we can begin to erase stigma, shift the status quo on addiction in our society, and open the door for others to do the same. Through interviewing guests who have done the soul excavating work of recovering, Alexis delivers raw conversations with realness and compassion, all while providing tips and expert insight to support listeners on their own journey to recovery.